M A R T I N B U S H F I N E A R T

NEW PAINTING 2022
My "Home Gallery" is now where you can visit and see many of my paintings. Contact me to arrange your interest and make an appointment.

07703 231150 - art@martinbush.co.uk Or use the messenger button at the bottom of this page!
"Once in a Lifetime"
The exhibition has now finished but you can still purchase any of the paintings seen here through the Host Galleries or me!
See my article in PLYMOUTH HERALD
| | | |
| --- | --- | --- |
| Delights of Spring 40cm sq £450 | Landscape Dream 60cm sq £650 | Two new works in 2022 and feeling the spring in my arty step once more |
| | | |
| --- | --- | --- |
| Dreamy Days 1 £1,500 | Dreamy Days 2 £1,500 | Dream Days 3 £1,225 |
| Tranquil £525 | Cycling £875 | Picasso Mind £875 |
That Magical Feeling

£1,850

Cycle Ride Dartmoor

£1,850

Red Skies Ride

£1,850

Let the Sunshine Ride

£1,850
| | | |
| --- | --- | --- |
| Luscious Landscape £395 | Sail Boats £325 | View Devon £325 |
| | | | |
| --- | --- | --- | --- |
| Out on a Ride 1 £260 | Out on a Ride 2 £260 | Out on a Ride 3 £260 | Out on a Ride 4 £295 |
| | | | |
| --- | --- | --- | --- |
| Life's Play 1 £225 | Life's Play 2 £225 | Life's Play 3 £225 | Life's Play 4 £225 |
| | | |
| --- | --- | --- |
| Anticipation in 2021 £750 | Life is for Living £2,650 | Destination SOLD |
| Cycle Ride Wembury Point £650 | A Beautiful Ride £650 | Cycle Ride Cawsands View £650 |
| Sunshine £1,250 | Magnificent Ride £720 | Cycle Ride £850 |
| | | |
| --- | --- | --- |
| Cycle Ride Mini 1 £295 | Sunset Out on a Ride £1,150 | Cycle Ride Mini 2 £295 |
| | |
| --- | --- |
| Nature's Energy £1,650 | Pop Life £1,650 |
Magical Landscape on the Moors

150cm x 122cm

£3,700
The Mood of the Land

150cm sq

£5,600
"Once in a Lifetime"

150cm sq

£5,800

SOLD
Blossom Inspired Paintings

Weeping Blossom Tree 123cm x 122cm £2,700

| | |
| --- | --- |
| Blossom 1 SOLD | Blossom 2 SOLD |

Pink 185cm x 122cm £2,800
Martin Bush Fine Art
art@martinbush.co.uk
T; 07703 231150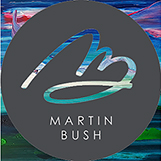 COPYRIGHT of all images on this entire website belongs to @ Martin Bush